Standard Plain Picket Railings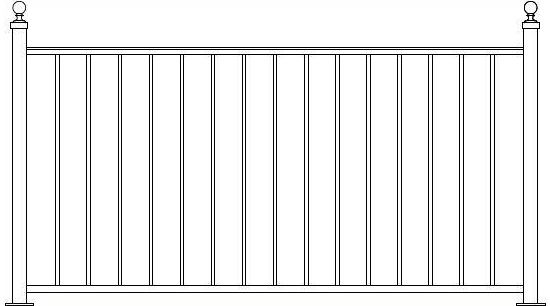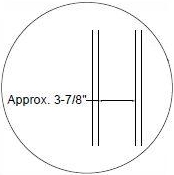 Description:
Molded cap on 1 inch square tube top rail, and 1 inch square tube bottom rail.
Pickets: 1/2 inch square tubing.
Posts: 2 inch square post with ball cap.
PRICING:
BASE PRICE: $68/l.f.
FLAT TOP POSTS OR BALL POSTS: $38.00 each
FINISH: DOUBLE POWDER COATED BLACK
First coat: Zinc rich primer by PPG
Second coat: Envirocron polyester powder by PPG
PLEASE SEND PICTURES, DESTINATION ZIP CODE AND ROUGH DIMENSIONS FOR A COMPREHENSIVE QUOTE TO info@deciron.com
Plain Picket deck railing with special center scroll: Add a center scroll for only $38 extra.
This deck takes the plain picket railings with a scroll picket added to the center of every panel.
Standard plain picket railings a straight run metal staircase with upper landing landing
Maribeau Resort deck railings: Standard Plain pickets with mexican scroll pickets added for only $45 extra per scroll
Standard Plain picket iron railings on both sides of a stoop.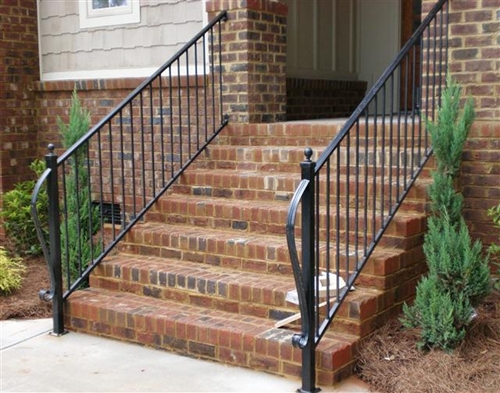 Plain Picket standard railing including lamb's tongue ending for extra $65 dollars.
PLAIN PICKET BALCONY
Almost the looks as the standard plain picket railing, only difference is that the
balcony does not include a 1 3/4 cap but a solid bar 1/2 x 1 1/2
You can get this balconies at the balcony store.